Nutrition
Verenice Patino

NAMI Activity Designer

Alex Sangalang

Little Book Designer

Mariana Quintanar

T-Shirt Designer

Juan Lee

Little Book Designer
Introduction
This semester I have learned how much nutrition actually affects our mental health and daily lives. I have researched and learned so much about this topic that I has made me realize all the poor health decisions I have made in the past.Many times there is a food that you think would be the best to eat, but in reality, it might not be. I have learned toke better choices, and help other realizes how they could improve theirs.
Before this project I only knew the basics about neurobiology and nutrition. But after everything this semester I have learned so much about neurobiology, by the mind maps, the research for the little book and activity, and by the book that I read. From the mind maps I learned a lot of fancy biology words, but the ones that most stuck to me was the limbic system and some of the parts that make it up, like the hippocampus, amygdala, and the hypothalamus. I have learned what each of their role is, and some of the things that are connected to it, like how the hypothalamus creates many of the body's most important hormones. From the research I learned about how much the brain's health actually depends of the gut, also known as the "second brain" because of all the neurons it contains.
​
---
Powered by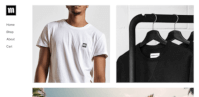 Create your own unique website with customizable templates.