This project has been full of drafts and critique, and those two are the essential things that helped me get to my final products. I think something that I used from past projects was my organizational skills, while I was making the third draft for our little book, I felt like I organized everything in a way that it was visually pleasing. THe product that you can really see the difference is the NAMI activity. At first I tried to join all of my groups ideas by reading their drafts, and hearing their suggestions. When I finally put our ideas together, I knew that we were going to let the participants choose their own meal, based on a scenario. I didn't really know how to make the activity interactive, but then while Reina was giving us critique she explained to us the idea of tossing a bean bag to their choice. When our group heard her suggestion, we all agreed that that would be the perfect activity.

At first we tried all agreed that we were all interested in learning more about nutrition, so we decided to focus on nutrition. After trying to research about dreaming and nutrition, I realized that it would be very difficult to include my proposal in the group's topic, so we decided to go with video games instead. So we all researched about nutrition and video games, and how it affects you when teens decide not to eat, to keep playing video games. We showed this through our second t-shirt design.
Little Book
NAMI Interactive Activity
T-Shirt Design
Powered by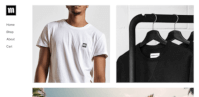 Create your own unique website with customizable templates.