A Little Something About Me...
My name is Verenice Patino, I am currently 18 Years old and a Senior in High Tech High Chula Vista. I was born in San Diego, but spent most of my life in Tijuana, Mexico. I come from a latin family, I have 3 sisters, two older, and one younger. I am also a captain in the Girl's Varsity Tennis Team at my school.
Freshman Year
Sophomore Year
Junior Year
Senior Year.
Powered by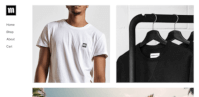 Create your own unique website with customizable templates.